In the late summer while Ola was having a visit from her physiotherapist a conversation came up about therapeutic "hot pants" and that they might be beneficial to help Ola control her hips and prevent her from splaying ler legs outwards. Her butt-scoot was not applauded either and this would help discourage it. We left the subject alone for the rest of the visit, but everytime Ola was almost doing the splits the little pants kept creeping into my mind.
I like to consider myself pro-active when it comes to Ola's therapy, I like to be one step ahead. I asked Physio to bring a pair to Ola's next visit. We put them on her and she was not a happy camper. She was miserable, her little legs unable to split, and her trademark butt scoot was was hobbled.
I couldn't stand to see her unhappy, I took the pants off 5 minutes after her therapist left and I put them in her sock drawer.
As the months wore on, I tried Ola in the pants a few more times before quickly giving into her whimpers of annoyance. I gave up... No more pants.
By late November with her scoot still in full swing I noticed it was becoming quicker and she was using so much force with every heel pull that she was just about pulling straight through into the splits into a face plant.
I pulled out the pants, and she whined... but only for a few minutes.
Ola has 3 pairs of "hot pants" now, and wears them everyday. She doesn't mind them, and they are doing a world of good for her leg strength.
We are still trying to get her up on her feet and off her toosh so Ola is now also wearing plastic ankle braces in her little booties everyday.
Ola sporting the original red "hot pants" the ankle braces are there too, they are just hiding under her Robeez so she can't rip off the velcro.



Wait... what did you think this post was going to be about?
Oh! get your mind out of the gutter!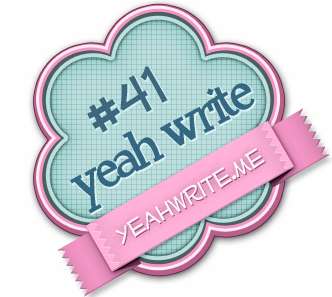 Linking up again with Yeah Write!